Living room décor should reflect the personal style of its inhabitants. This can range from cozy and comfy with earthy tones, bright and cheerful with vibrant hues, or rich and textured layers of character. But no matter how carefully you decorated your living room initially, it'll start looking shabby in a couple years without proper maintenance and upgrade. Here are 5 quick tips on how to freshen up your living room without breaking the bank or throwing everything out for new furniture!
Brighten Your Wall
Add instant liveliness to the room by painting a wall with a poppy accent or switching the color of an already-painted wall to a new trending tone. Elevate your wall by experimenting with textures, geometric shapes and patterns to create depth and style.  
Be Bold With Print
Use well-curated bold accents like animal print cushions, rugs with asymmetric patterns or bold table pieces to add contrast to an otherwise monotonous or monotone room. If you want to invest in something more seasonal, add colorful art to your walls for a touch of visual, on-trend counterpoint.
Deliver Couch Appeal
Give your couch a look by switching its cover with the season. It'll add character and provide the look of "instant renovation". For smaller piece options, acquire a luxurious new throw, or fluffy cushions for the sofa. Whatever you do, make sure your couch is an accurate reflection of your lounging best self, whether that be monochrome minimalist, vain and luxe, or wine and leather!
Draw a Silver Lining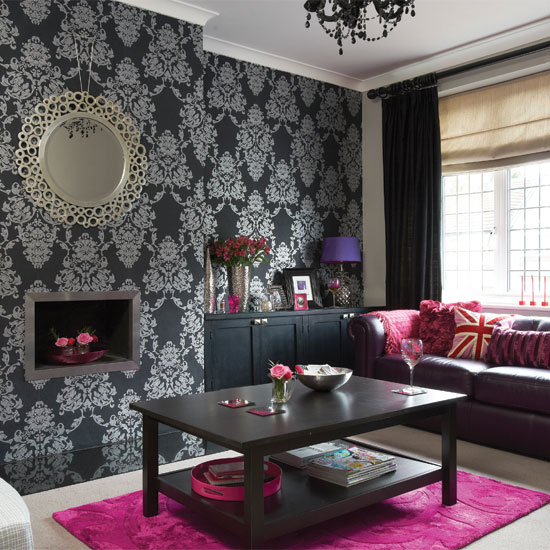 For a sleek new look, bring in metallic elements to the room.This  can come in the form of cool mirrors on the wall, chic silver bowls on the coffee table, and fancy aluminum vases besides the couch. Although we said silver, we mean any tone on the metal spectrum, including copper, brass, matte black metals and mirrors!
Arrange For Symmetry
If your feel your living room looks cluttered or untidy, try arranging the furniture in a symmetric pattern to give a sense of organization and balance to the room. Simply rearranging your current assets can  greatly affect the outlook of the space as a whole!
Hope you're itchy to give your living room a brand new look, we know we are! Time to start that Pinterest board, and head out just in time for all those holiday deals!